Mobile Apps can potentially rake in billions of dollars each year in revenue. However, most of the apps that manage to do this, are quite low in number. A majority of the apps are duds and literally, don't make any sort of money at all. So it's an incredibly difficult exercise to provide a number on how much money can an mobile app makes considering the fact that there are a large number of apps and there is an incredible amount of variance in the amount of revenue they manage to churn in for their developers.
Let's Understand The Lens Of The Current Revenue Earning Potential Of The Top Apps In The Industry.
The apps that are in the top 200 apps on the app store, manage to earn around $82,500 on a daily basis. If we widen that bracket a bit and look at the revenue figures for the top 800 apps, the daily revenue drops down to around $3,500.
This difference is also prevalent in categories as well, for e.g. if you look at game apps, they make around $22k each day, while the figure is significantly lower for entertainment apps, who manage to churn in just $3090 each day. So, having said that, you cannot have a uniform answer on how much money can your app make.
The app market is registering continued growth and industry analysts predict that this growth is going to remain strong in the future as well. Just register this fact: a whopping 52.2% of the total web traffic in the USA came from mobiles in 2018.
Appingine can allow you to understand the dynamic behind this model and allow you to gain a path through which you can build an app that can make a profit for you in the long run and on a continuous basis.
The amount of how much money can an app makes varies from niche to niche and if you're looking to boost your business in the digital world, then the mobile app industry is the ideal market for you to tap.
By 2020, estimated numbers suggest that the global app revenue will reach a whopping $582 billion.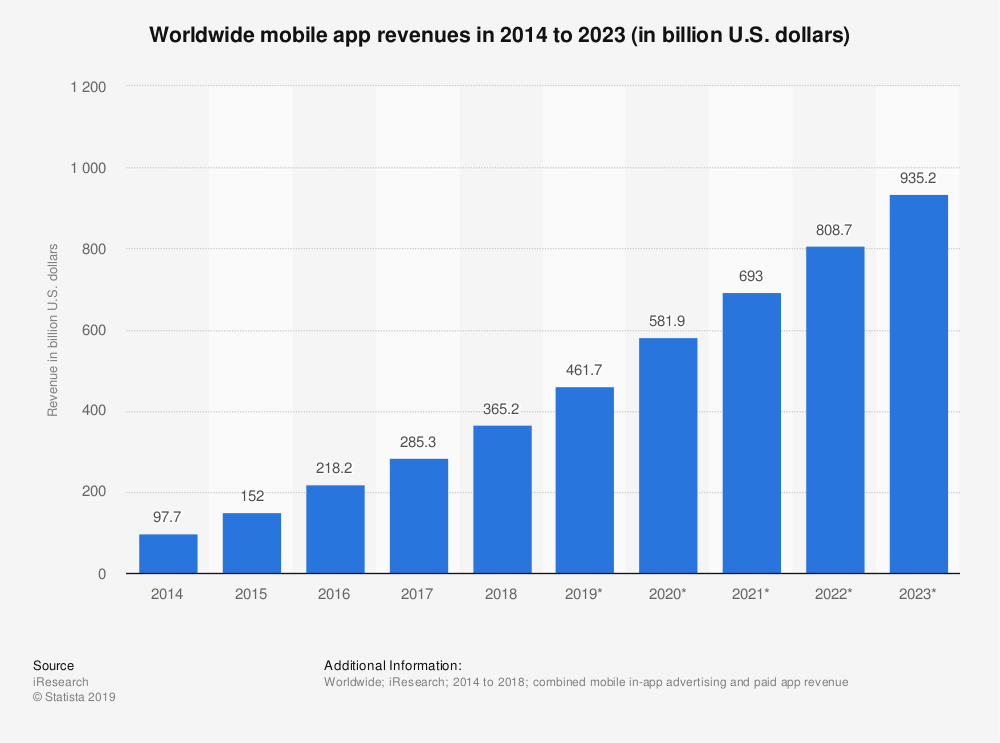 This massive revenue generation is a byproduct of the rise in mobile phone usage. According to Oberlo, 52.2% of all global traffic came from mobile phones. For businesses, this is a gold-mine that can result in massive growth, and industry leaders have already started to use this platform to realize a higher return on investment.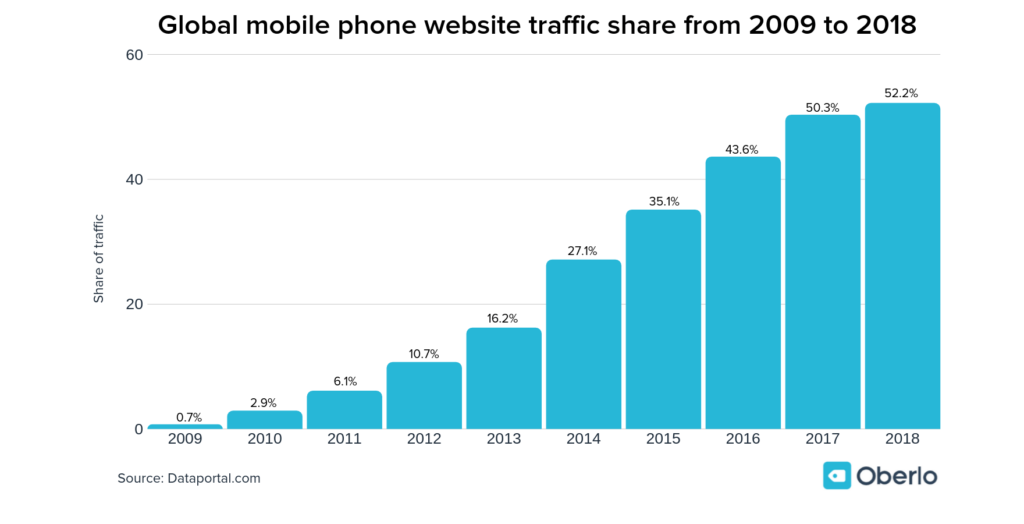 Moreover, according to SensorTower, the top-100 app development firms or publishers generated an average of $130 million in Q1 2019, this figure has risen at a CAGR of 31% since 2014.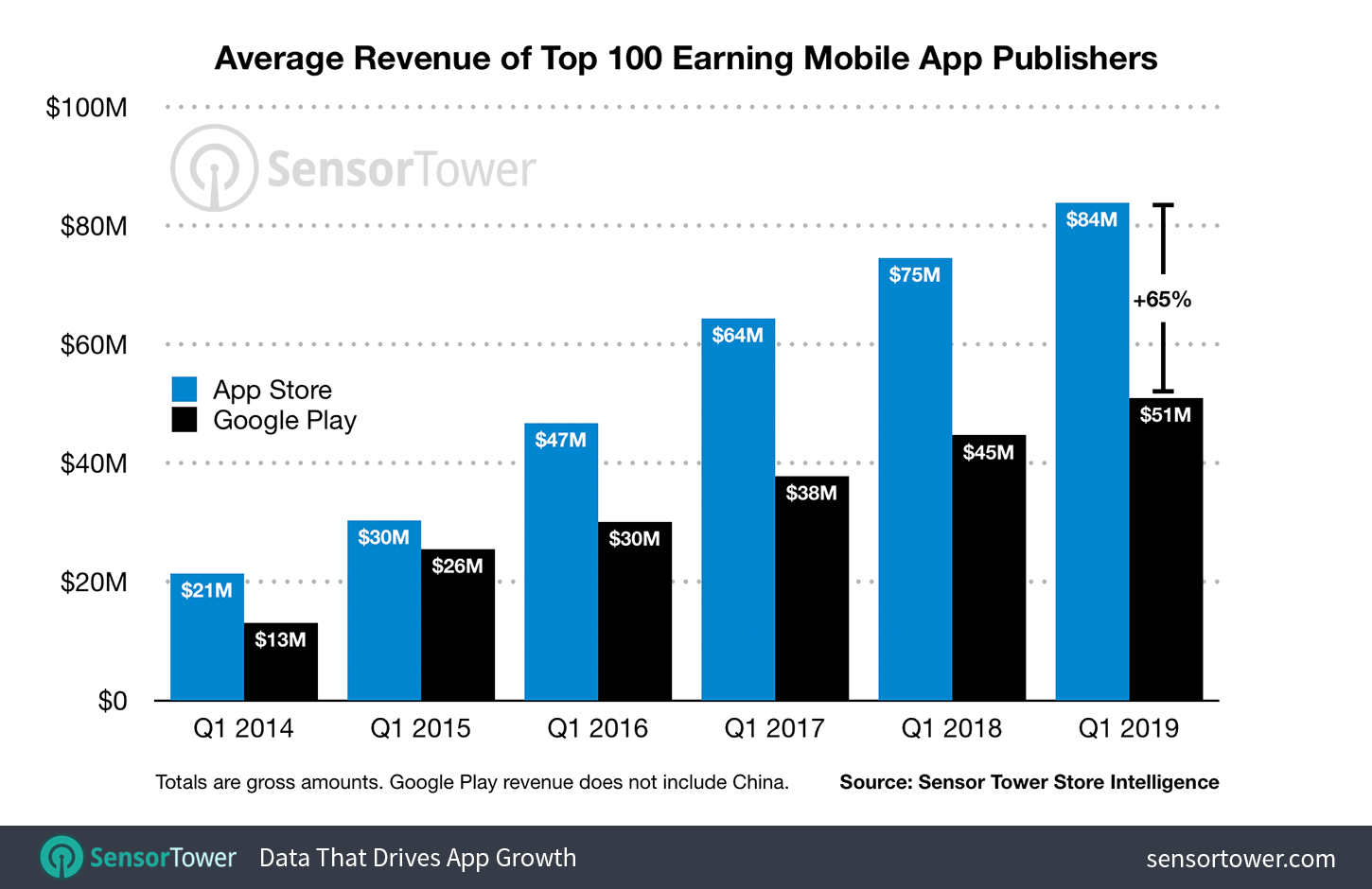 But since there is no set average for how much revenue an app can generate, you will need to understand how different niches are performing within the app ecosystem to understand just how much exactly the expected returns on your targeted niche will be.
You have to decide both the market you will target and the business model your app will implement.
To make this an easier process, we're discussing some of the most trending business models and applications that are generating massive revenue. Let's dive deeper into these niches for a better understanding of the app development world.
Mobile Applications Have Expanded Beyond Comprehension
Mobile apps are not just limited to even smartphones today. Nowadays, applications can be found on Smart TVs. These Smart TVs are today present in more than 70 million homes in the U.S. However, the most popular applications that are being used today on Smart TVs are Netflix, Hulu
The most popular apps used on Smart TVs are appropriate for the medium. They already have a very large, existing user base, such as Netflix, YouTube, Amazon Prime Video, Spotify, etc. In a nutshell, apps are now increasingly becoming an integral part of television sets.
Furthermore, Smart speakers such as Alexa or Google Home are also dominating the application world. While the growth of these devices was already predicted to surpass the $125.65 million mark, the feature of seamlessly connecting these devices with third-party mobile applications is what proves the viability of mobile applications.
Moreover, the widespread mobile applications don't stop just here because the hottest game consoles have their own dedicated app stores that give the gamers options to buy or download their preferred game applications easily from the store.
Lastly, Smartwatches!
Smartwatches are another branch of technology that is observing drastic growth. Wearables are increasingly becoming dominant in the tech world, and it is predicted that they'll reach a 51% share of wearable devices in 2022. So, if you're an app developer, I would recommend that you make your app smartwatch compatible to give it a competitive edge and viability.
How Much Do Subscription Apps Make?
Subscription apps are another great medium of earning money through in-app purchases. The best example of a related money-making app is Tinder. Although the Tinder app is free for anyone to download, it charges the users for its features, such as unlimited swipes. This feature gives the users unlimited opportunities to find a match.
Moreover, Tinder's "Passport" add-on allows the users to match with users in other locations, whereas "Boost" allows the users to appear on top of the pile in front of the nearby Tinder users. These in-app features available to the audience only if they were to purchase them generated over $407.4 million in revenue. If you've ever used Tinder, you may know that it charges $9.99/month for Plus subscription and $14.99 for a Tinder Gold upgrade. Hence these packages and great features are what made Tinder one of the highest-grossing apps globally.
Another great example of how mobile applications are making money is Bumble. This close competitor of Tinder has a user base of over 50 million and an impeccable growth rate of 135%.
With such a strong presence, the app was estimated to make $172 per minute in 2018 due to the monthly subscription package it had of $9.99. Other than these apps, Pandora, Tencent Video, Netflix, Hulu, and iQiyi are some other subscription-based apps earning millions.
The technology became immensely popular during the Arab Spring as it was being used to bypass government censorship. For a year of service, the monthly subscription cost is $5.99. Additionally, on a month-to-month basis, the subscription charges are $12.99. Furthermore, the Hotspot Shield has more than 650 million download by 2019, and it stands as one of the top-grossing apps on the App store.
Which Platforms Can Mobile App Developers Utilize To Make More Money?
Here, the first question you really need to answer is which platform would opt to design your app. Answering this question is incredibly important since it can directly affect the potential your app will have in terms of gaining monetary returns since every platform has an entirely different market and a different level of popularity among audiences.
Developers conventionally earn well in the app domain since there is a consistent demand for apps to be developed. Having said that, opting to become a developer for Android apps will allow you to potentially earn more since the average salary for Android developers is around $97,600. The higher earning potential here is quite understandable since Android has a lot more users and higher market penetration than iOS.
But don't think that iOS developers are not adequately compensated. A mid-tier iOS developer can earn a per annum income of around $96,600. This is not much lower than Android developers.
However, you should take these figures with a pinch of salt, since in both the Android and iOS markets, the top developers and development companies are the ones who earn much of the total revenue that these markets generate.
Smaller level developers continue to earn less, however, in recent times, there have been efforts by them to ensure that their apps perform well through initiating skillful marketing tactics through app marketing professionals.
There has been a rising trend in recent times by developers to port their apps to platforms others than Android or iOS in a bid to earn more profits by tapping into untapped markets. However, this shouldn't be your initial bet when developing an app, and you should first opt for either Android or iOS platforms or both simultaneously in order to ensure that your app is present in the markets where most of the audience is.
If your app proves profitable on these platforms, you can then think of taking them to other platforms too.
How Much Revenue Do Mobile Apps Manage To Generate?
Apps are some of the profitable entities out there right now, there are no second thoughts on that. In just four years i.e. from 2016 to 2020, global mobile app revenue is slated to increase by a whopping margin of 200%, and touch $188.9 billion.
These figures are majorly coming from the success of many top gaming apps. Gaming apps are among the top-grossing apps out there. In July 2019, PUBG Mobile managed to rake in monthly revenue of $146 million. That's more than $4.7 million in revenue each day. The app now has over 100 million users worldwide.
But PUBG Mobile is not just a one-off success. Other gaming apps have equally impressive figures. Fortnite developed by Epic Games earned around $1.9 million each day in 2018.
Pokemon Go, the game which became a phenomenon worldwide, earned around $800 million in 2018. That's like ¾ to a Billion dollars in revenue in a year.
Most of these apps rely on in-app purchases to make most of their money since they are free to download and use. $71.3 billion was the projected figure from in-app purchases that game apps could potentially make in 2020. If you are developing an app, then do consider adding the option of in-app purchases in there since 98% of the revenue that apps make comes from this very revenue-generating option.
Which Platforms Are Performing The Best In Terms Of Revenue Generation?
How much money your application makes depends a lot on the platform you choose to get it developed on. Android has the largest market share in the mobile industry with 75.82%, compared to iOS' 22.9%, making the former the obvious platform dominating app revenues in the current environment.
According to SensorTower, between 2018 and 2023, the expected CAGR of user spending on these stores is 16.8%. In 2020, the expected user expenditure for both Google Play and iOS app store is projected to be $123 Billion, with the Google Play app store leading the race at $78 Billion.
For mobile applications, these platforms provide the answer to the question every business owner asks when getting their app developed, "How much money can an app make?"
While there is no definite answer to this exact query, the current projections indicate that the future for mobile apps is on the right trajectory, and it seems that the growth rate is only going to increase in 2020.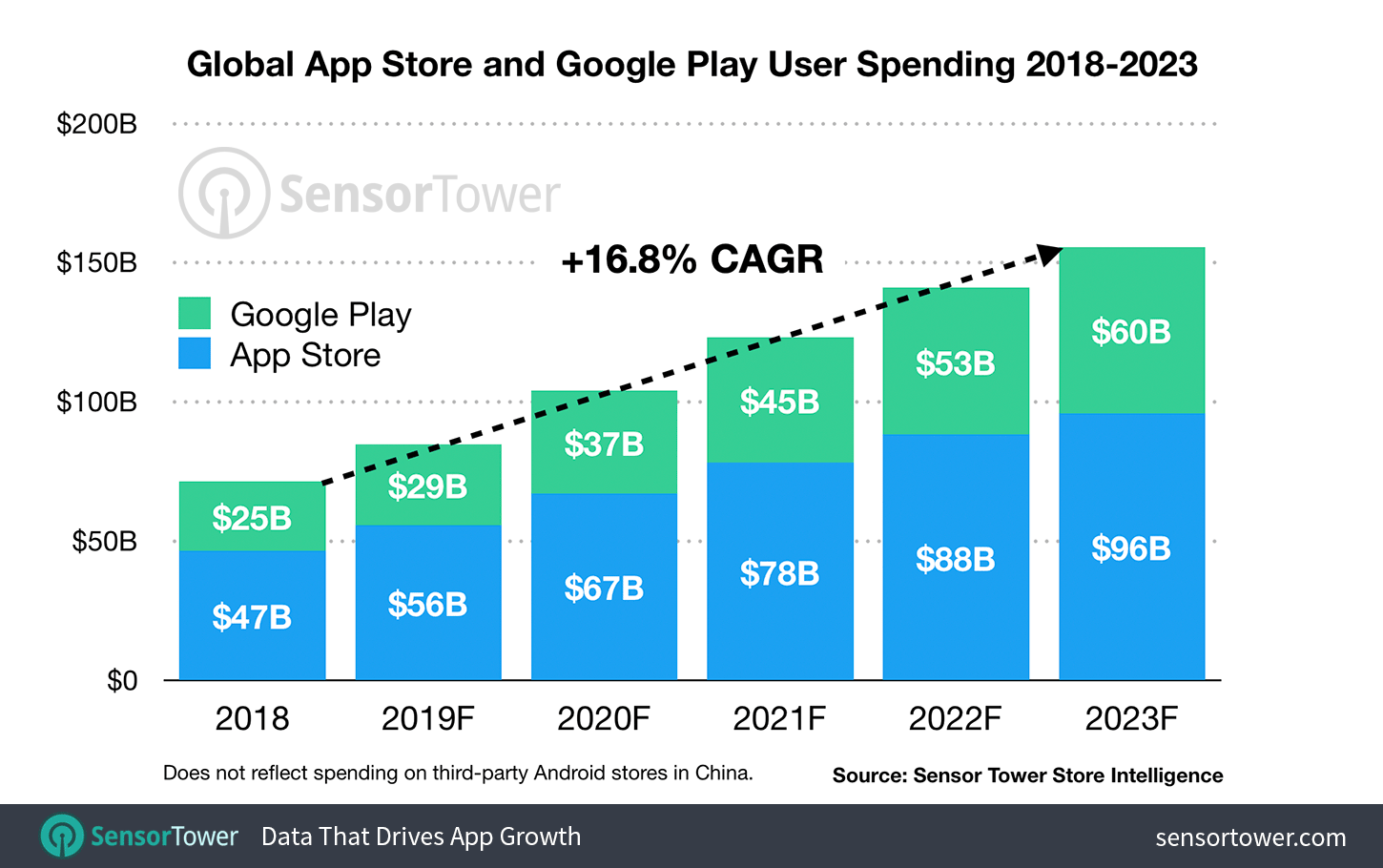 Once you've chosen a platform and made that decision, how you monetize your application to make millions or even billions is an important strategic decision. For this, we've chosen three of the most used revenue models across the industry that you can choose based on your niche.
Revenue Models To Earn Money With Mobile Applications:
One-Time Payment (Premium Mobile Apps):
Premium mobile applications charge a one-time download fee on the Google play store on the iOS app store from its users. While there is a general belief that premium apps don't make money because users don't want to spend, that's actually untrue. In 2017, Paid apps accounted for nearly $250 Billion in revenue.
Education apps are a well-performing category within the paid apps category. Take, for example, WolframAlpha, who uses its computational intelligence to come up with answers for mathematical queries and chemistry-related problems.
In just October of 2019, WolframAlpha made $20,000 in revenue through downloads. Standing at 1,000,000+ downloads on Play store alone, the application is a powerhouse in the educational category.
1)      In-App Purchases (Freemium Mobile Apps):
In-App purchases are a great way to generate revenue through applications. It allows users to download the application and use its features for free while putting up a paywall on some premium features.
One such application that uses In-app purchases for revenue generation is Fortnite. In May 2019, Fortnite made $203 million in revenue, even though the game remains free to play for users.
2)      Subscription Model (Recurring Payments):
The subscription model is well known in the industry with applications from services such as Netflix, Hulu, and Amazon being popular operators in this niche.
It requires customers to pay a recurring fee for access to the application's services.
In this category, Netflix stands as a giant with $5.2 Billion in revenue as of the third quarter of 2019. Similar applications in this category include Pandora, the music streaming application that uses a similar subscription model.
As of September 2019, Pandora's revenue stood at a staggering $447 million, nearly 30 million more than their standing in September of 2018.
This trend showcases the power mobile applications have in 2020 and how they can help business owners earn money through the digital landscape.
Which Type Of Apps Have The Potential To Make Money In 2021?
Gaming Applications
Gaming Applications are the largest contributors to global app revenue. The 2018 iOS App Store mobile app revenue exceeded the $33 Billion mark, while Google Play revenue for games stood at $21.5 Billion.
The total growth of revenue in the first half of 2019 was 11.3%, with a total of$29.6 Billion.
According to MediaKix, 56% of mobile gamers play games more than 10 times a week, showcasing the addictive nature of this mobile-based entertainment avenue.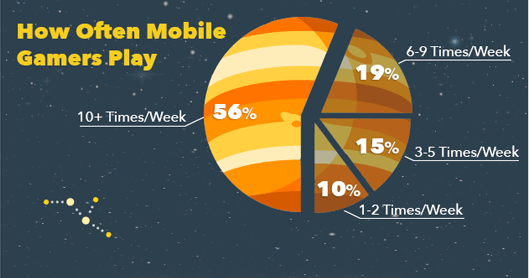 Gaming Applications accounted for 77% of the total app revenue in 2018, with the gross mobile game revenue standing at $54.7 Billion. The AR-based game "Pokemon Go" grossed over $3 billion in revenue in 2019, while Clash of Clans' monthly revenue rose to reach $22 million in October 2019.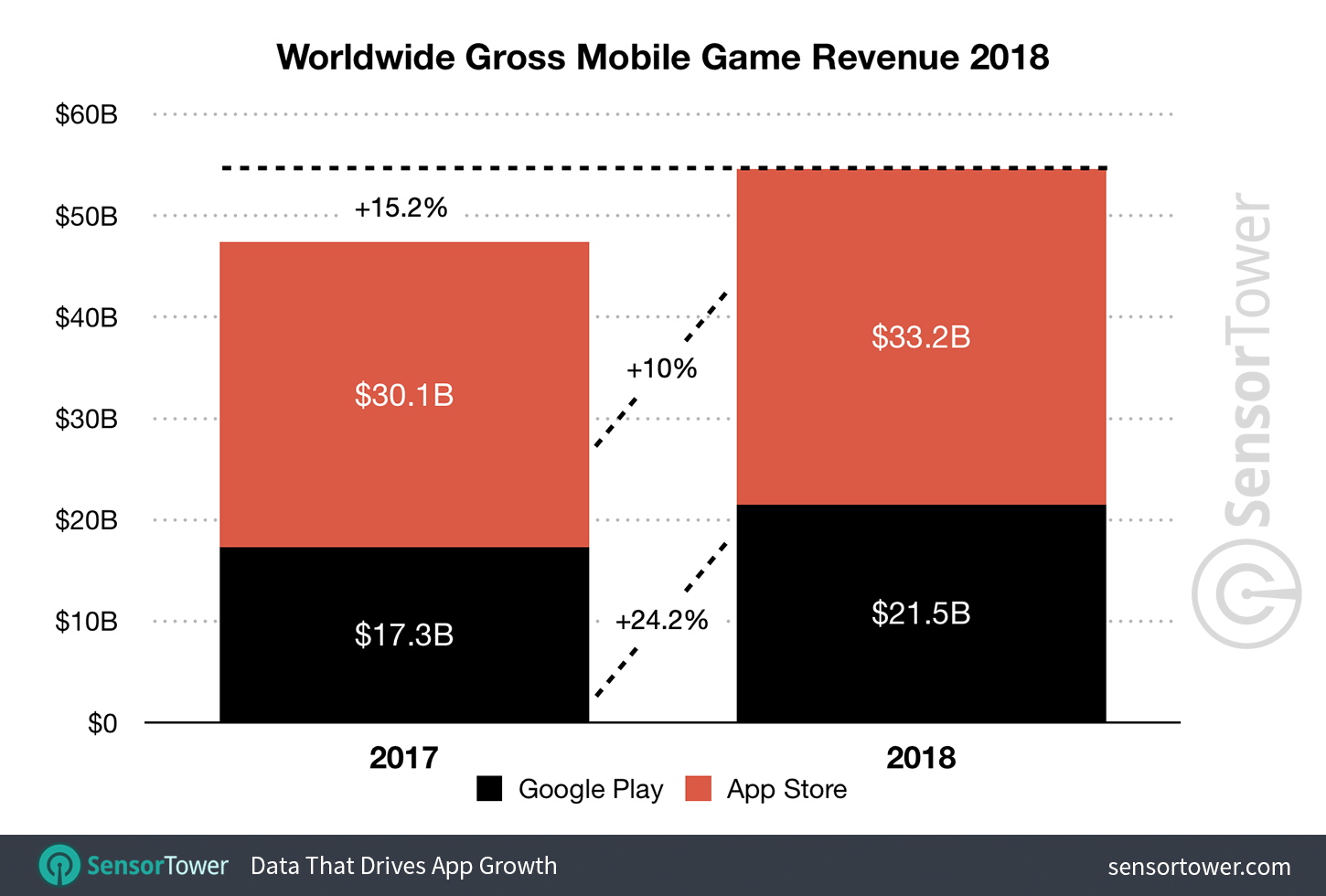 E-commerce Mobile Apps
On the other hand, E-commerce mobile apps have also been on the rise for a long time, and if existing data is any indicator, the rise is not going to slow down any time soon. The growing tendency among the younger demographic to buy online has contributed significantly to the rise of this sector in apps. By 2021, experts have estimated that the US mobile commerce sales will amount to more than $3 Trillion.
This is one of the niches that has given businesses the ability to become globally recognized brands. In order to cash in on this market, mobile applications require a payment gateway integration within applications, which allows them to sell products and merchandise on their mobile apps.
By 2021, over 2.14 billion people across the globe are expected to by services or products online, which provides businesses with a huge audience to target.
By 2020, the market will value at around $2.48 Trillion, expected to grow even more by 2025 to reach an estimated $16 Trillion.
Just as the numbers suggest, mobile applications targeting this industry can expect a huge return on investment. In 2020, the market competition in this niche is quite low making this an excellent time to tap into this market and extract the benefits by capitalizing on the first-mover advantage.
Another vertical that app developers and businesses have to keep in mind is Smart TVs and Smart Watches, as they can also churn out a huge amount of revenue in upcoming times.
Companies like YouTube, Netflix, and Amazon are already making way onto these platforms with their custom applications designed for these platforms.
These applications are already functioning on most video game consoles as well, providing convenience by making sure that their apps are discoverable across multiple platforms.
Which Type Of Apps Generate Revenue?
The app development journey doesn't end once you've decided to create an application. Still, it then demands more clarification in terms of the type of application you want to develop.
However, the proper approach would be to research and study the market, streamline whatever's missing, capitalize on the gap through your mobile application, and ensure success and scalability from the start.
You'll find several categories over the internet of the most financially successful application. For example, Liftoff company made our lives easier by publishing a report that entails the details of the games that have become the leader among all the apps generating nearly $34.4 billion annually. From such reports, you can easily extract the type of application that you want to create.
Here Are The Most Popular Types Of Apps That You Can Build To Generate Revenue With Examples:
Mobile version of the newspaper, information portal, magazine, blogs, etc. (Forbes)
Music apps (Spotify)
Personalization apps allow users to change the overall orientation of the smartphone or any other device. (Zedge)
Performance optimization tools. (CCleaner)
eCommerce/Shopping Apps (eBay)
IoT apps (Vialatm)
Sports and health apps (My Fitness Pal)
Social media apps (Facebook)
Out of the above-mentioned mobile applications, social apps, music apps, and eCommerce apps are the ones on which the users tend to spend most of the time.
How Much Does Making An App Cost?
Fortunately, we have a pretty detailed answer to this question. Because most designers and developers make the mistake of setting incorrect prices for various elements involved in making an app, determining the app's price becomes difficult and cluttered.
Therefore, think twice before making your app a paid one.
Moreover, here's a great blog is written by one of our business analysts, "How Much Does It Cost To Make An App?" that will explain to you all the ins and outs of developing a mobile application, the developmental and designing phase, the technology stack and everything else cost-related.
Additionally, If you're willing to calculate the viability of your "Paid" mobile application.
Here Is A List Of A Few Important Questions That You Need To Address Before Initiating The Work On Your Paid Mobile App:
What will be the features of my mobile application?
Is it going to be used daily?
What is the cost of my competitor's app? (there are several app development agencies out there that can calculate this on your behalf)
What Does The Future Of App Development Look Like?
The final quarter of 2019 showcased this potential with an estimated consumer expenditure of $21.9 Billion on apps across Appstore and Google Play store, with a 22.9% increase from last year.
These figures suggest that the year 2020 is going to be huge for mobile apps.
The question we discussed earlier how much money apps can make, might not have a definite answer but through these stats and figures, you can definitely reach a ballpark figure.
If all the considerations are identified by a business, apps can make a lot of money, especially in the developing world, which is a market where demand is still sky-rocketing.
Appingine mission has always been to help businesses grow with the help of our mobile app development expertise. Without having to deal with a human counter-part, you can get a quote and compare it to the potential earnings that mobile apps have in the modern world. Do you have an idea that we can help with?